When it comes to navigating complex agreement networks inside enterprise accounts, sales leaders are facing two big challenges:
Where to go: What's the roadmap for navigating agreement networks within enterprise accounts given their size and complexity?
What to say: Once you've breached the walled gardens where executive decision-makers and wallet owners reside, what's the conversation your team needs to have when they're sitting face-to-face (whether in-person or on Zoom) with the various stakeholders?
These challenges cannot magically be fixed overnight. They take time, resources, and education.
In order to achieve short-term revenue objectives, it's been easier to implement simpler (but in some cases more costly) acquisition-based models. COVID-19 changed all that as it laid waste to sales pipelines and called corporate attention to the massive limitations that exist within a company's CRM. Broken commercial systems can no longer be ignored.
Retention Is the New Acquisition
So much of the sales apparatus today is built around acquiring new accounts but not retaining and growing existing ones. Why is that? It seems the growth strategies of early-stage SaaS companies to acquire as many new accounts as possible has led to an overwhelming sales focus on new account acquisition by all businesses.
This strategy by itself completely ignores the importance of retaining and growing the accounts you currently have. And in the case of servicing existing large scale enterprise accounts, it has left a gaping hole in the ability to effectively grow revenue through systematic contract expansion.
One of the most important aspects of interfacing with large enterprise accounts is navigating agreement networks. Unfortunately, decades of go-to-market strategy have left sales teams ill-equipped to sell into higher levels of an organization and reach wallet owners who have vast purchasing power.
The Old Ways of Working Won't Work
Navigating agreement networks is a process that also requires new strategies. "White space" analysis designed to cross-sell products to an account typically doesn't work well. Often disjointed and too focused on products rather than solutions, cross-sell offers are usually relegated to lower-level purchasing departments to be compared to competitors.
To penetrate agreement networks, we have to realize the complexity of the relationships within the enterprise account. Purchasing decisions at higher altitude levels for bigger sums of money increasingly rely on a network of people who all have to agree that a solution is worth investing in to solve a problem. However, because they are affected by the decision to use an external firm to solve a problem, they evaluate solutions based on their own personal benefit in the context of their role.
Evolve from Buyer Personas to Understanding Buyer Roles
Buyer engagement has been poor for years and COVID-19 only made matters worse. We hear time and again from executives that sales meetings are a waste of time because salespeople don't understand their issues or have clear answers to how they can help.
When vendors help the people inside of a business envision how to solve a problem and work with all of the stakeholders affected by a decision within an agreement network, they win. In fact, they are 75 percent more likely to win business (based on historical research).
Companies need to do a better job preparing sales teams to help the people making the purchase decisions envision what's possible to achieve together. The process involves pivoting from traditional buyer personas to identifying each affected person and their role in the agreement network.
Help People in Buyer Roles Envision Outcomes
Approaching the primary wallet owner and establishing the foundation for an outcome of interest is just the beginning. Relevance, context, and timeliness must all come together from the perspective of the people inside of the agreement network. Outcomes resulting from solving a problem or challenge they are invested in – by working with you – must be clear from their perspective. Value compared to cost and risk must be favorable in their terms.
The Results: Co-creating Value with Customers Grows Deal Size
When you take the time to validate with each stakeholder the value equation for them, you are co-creating value vs. just responding to demand. The better your organization can do this, the more you can grow enterprise accounts over time. It's important to remember your customer is in control of your pipeline, as they are the ones who spend the money.
What's the payoff? Simply put, larger deal sizes. Much larger. The success journey above is an actual example of the results from a company that executed this strategy. It shows that when you envision success with senior level executives at enterprise accounts, you can drive a much more efficient growth strategy for your business.
Prepare to Go to Customer
There are several flavors of enterprise growth strategies that you can run. Knowing what strategy at what altitude level and who within the agreement network will be the key decision makers establishes the foundation for enterprise account growth. We call this outside-in approach "model-map-match." Understanding the nature of a Change Agent inside of your customer's organization when you are selling at higher levels is another critical success factor.
Stay tuned for more insights from our Economy of Enterprise Accounts series.
---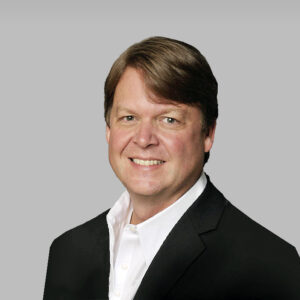 Dave has 30 years of experience in B2B as President, GM, CMO, and CSO. He is recognized as an AI, marketing, and sales enablement expert. He is also a growth leader with a strong history of innovation. Dave is the Founder and CEO of Polaris I/O.
All author posts