We live in an uncertain economic time … the worst inflation rate in 40 years and the S&P 500 had the worst start to a year since 1939. But one thing remains reliably constant, the world's largest businesses get bigger and usually anchor the majority of most companies' revenue. It's true the Forbes Global 2000 list has changed over the last 10 years with many disruptive digital businesses replacing older ones. But in aggregate, the Global 2000 is the mainstay of economic production, accounting for ~50% of GDP and their percentage of the GDP based on revenue has grown over time.
As a result, every business should have a focus on protecting, retaining, and growing relationships with these large enterprises in any market, but particularly in a down market. It is just common sense to focus on Global 2000 key accounts for reliable revenue stability and growth. Particularly since a Global 2000 company owns on average 143 other companies, and span dozens of countries, they provide an endless supply of new opportunities in the form of problems, challenges and objectives they deal with every day across many different areas of their business.
However, most commercial time is spent focusing on sales activity, what the sales team is doing, their talent and results. Most CRM systems are focused on improving sales and account personnel behavior and processes vs. freeing them up by providing the vital information they need to be more productive and effective. Businesses should at least equally focus on account, vs. just sales activity. Who is monitoring what key accounts are doing? How come the commercial teams aren't huddled around and collaborating regarding the activity of their biggest accounts (events, perspectives, trends) vs. sales activity (pipeline, leads, meetings)?
Expecting your sales and account resources to keep tabs on the massive amount of information about a key account is like asking a doctor to address a patient's health without giving them access to their medical chart. Commercial resources don't have time to the amount of extensive research and spend time with their accounts across all the different areas of opportunity, or to even know where the best opportunities are in the first place. Providing critical information to account teams that helps them activate sales opportunities is a gap that needs to be addressed.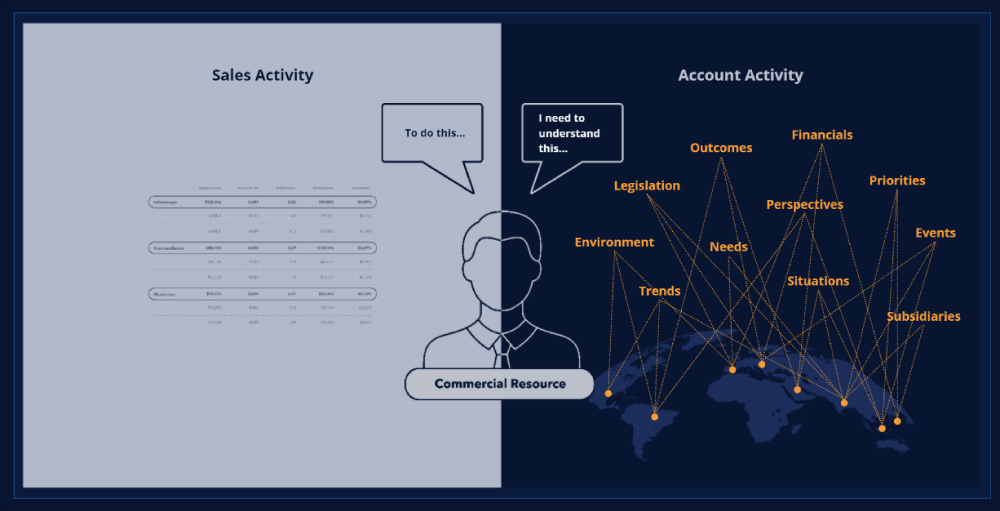 Given today's pace of change, the need for constant situational awareness regarding the evolving environmental factors, needs, priorities and desired outcomes of key account stakeholders has become a necessity. Empower commercial resources with the external account intelligence they need to achieve the internal metrics you expect. There are a few compelling reasons to do this:
Commercial Productivity – Commercial resources spend days per week looking for and evaluating account research, let alone forecasting and maintaining the CRM system. Every hour freed up is another hour of productive account facing time gained.
Return on Pursuit Investment – Every deal pursued costs tens or hundreds of thousands of dollars given sales cycles and the people involved. Isn't it worth protecting each pursuit investment by ensuring that all vital information regarding the stakeholders, their confirmation of intent to proceed, the assets and learning associated with each step along the way are constantly monitored, maintained and stored in a cohesive way?
Increased Deal Size, Velocity & Win Rates – When a supplier envisions success with executive buyers for addressing a key problem that becomes an initiative they sponsor, the supplier wins 75% of the time. Making this systematic by constantly adapting to changing conditions with accounts gets big results through bigger deals and higher win rates that are many times greater in size than average product sales.
Reduced Risk – Companies are not set up to monitor accounts in any systematic and consistent way to reduce risk of revenue erosion or account attrition altogether. Knowing what key account stakeholders are thinking and planning lowers the risk of losing a big account in the first place.
These impacts are just a few of the ways you can recession proof your business by providing commercial teams with the actionable insights they need to drive growth from the most reliable source of it in the first place, your key accounts.
---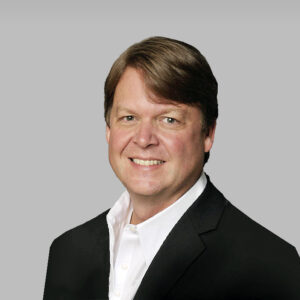 Dave has 30 years of experience in B2B as President, GM, CMO, and CSO. He is recognized as an AI, marketing, and sales enablement expert. He is also a growth leader with a strong history of innovation. Dave is the Founder and CEO of Polaris I/O.
All author posts